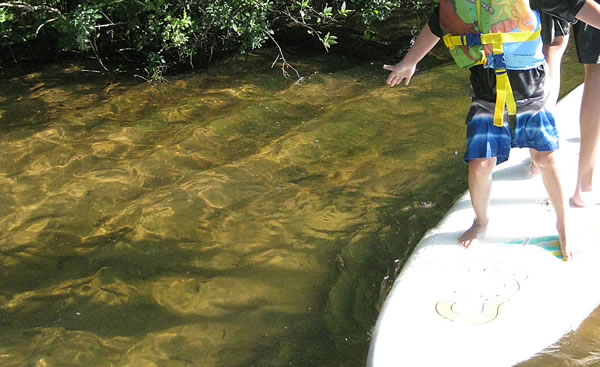 Tabor Lake is part of the Wisconsin Citizen Lake Monitoring Network. Volunteers have been trained to observe and take water samples from our lake three times each summer. These observations and samples are taken on dates when a satellite is flying overhead and recording pictures of the lake. A Secchi disc is used to see how many feet we can clearly see down. In recent years the range has been from 13-17 feet clear! Water temperature is taken and recorded from 3 - 21 feet. The temperature is warmer at the surface and in the 60s at the lower depths. Water samples are taken from the lake and sent to a lab in Madison to be tested for phosphorus and chlorophyll. The purpose of this data is to document water quality changes over time. Tabor Lake volunteers have been collecting data since the Association was formed in 1995.
We have an AIS (Aquatic Invasive Species) problem! After the DNR originally discovered a small sampling of Curly-leaf Pondweed (CLP) in the northwest part of the lake, we've discovered a whole lot more in the North Bay. On June 5th, 2022, Greg Bauer, TLA president and Keith Mason, AIS task force chair, pulled about 3000 plants out of the water, using thatch rakes and how-to information from the DNR. But plants remain.
If we can be aggressive over next two weeks to remove more plants, we can greatly increase our chances in lowering next year's growth. After two weeks, "turions" begin to form on the plant stems that make eradication more difficult. Can we get an army out to get rid of this nasty plant!!??
Please contact Greg or Keith to join the team! They will assist you in identifying and removing CLP. This will be an ongoing effort until we get rid of this stuff.
Keith – 651-276-4876
Greg – 612-910-5970
Here are tips on how to remove this stuff from Keith: